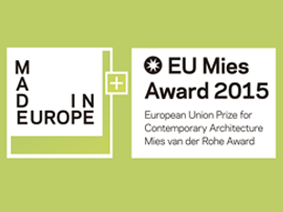 "Made in Europe 1988-2013" + "EU Mies Award 2015"
Date: 13-10-2016 > 08-01-2017
Place: Triennale di Milano, Milan
"Made in Europe 1988-2013" + "EU Mies Award 2015" a very extensive sample of the best European architecture along the entire route of the current Prize for Contemporary Architecture European Union – Mies van der Rohe Award
"Made in Europe 1988-2013" shows a broad panorama of the last 28 years of architecture in Europe based on the data from the archive gathered by the Fundació Mies van der Rohe in Barcelona. "EU Mies Award 2015" is a visual and audio tour of the best 420 works built in the European Union in the last two years.
Both exhibitions are complemented with two other projects which are the result of a critical analysis of the archive: "European Identity" and "Atlas of Contemporary Architecture". The first one is a documentary which brings together the opinions of architects that have been nominated to the European Union Prize for Contemporary Architecture – Mies van der Rohe Award on the idea of a European identity based on architecture. The Atlas combines essays, photos, drawings, graphics, stories and histories, which together provide a critical overview of current architecture in Europe, following the configuration of the European Union itself and the challenges it must face in a globalised world.
Altogether, the installation presents a selection of over 200 models and a visualization of the almost 3.000 proposals that conform the 28 years of the awards, representing a curate selection of the best works of architecture. The concept pretends to emphasize the number, quantity and quality of the overwhelming data. Playing with the idea that the data, not subdued to the construction of the historical discourse, is free for any kind of reading or elaboration. The visitors, according to their choices and movements, can make their own readings and interpretations.