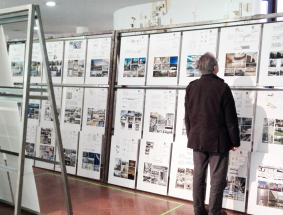 Public display of the 355 nominated works nominated to the European Union Prize for Contemporary Architecture – Mies van der Rohe 2017
The Fundació Mies van der Rohe along with the Creative Europe programme of the European Commission brings this cultural and architectonic benchmark closer to students, professors, professionals and everyone interested in architecture. We would like architects in the making to get to know and value the built architecture of today that is considered exemplary by professionals and critics all over Europe, after many long debates. At the same time, the exhibition allows professors to see the results of their teaching.
This exhibition shows the 355 panels of the projects that the prestigious members of the jury of this year have analyzed, discussed, and judged.
The ensemble is the background that describes the architectural moment that we are currently witnessing in Europe.
Date: 30-01-2017 > 16-03-2017 Place: ETSAB Avinguda Diagonal, 649