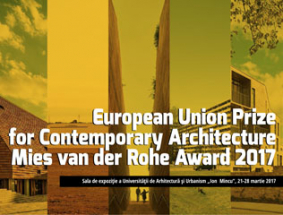 EUMies 2017 Award Exhibition in Romania
The exhibition of the 355 works nominated for the European Union Prize of Contemporary Architecture – Mies van der Rohe Award 2017 starts its international itinerary by Rumania on four different venues
1- Bucharest from 21 March to 28 March 2017
The Exhibition Hall of the Ion Mincu University of Architecture and Urbanism
Iuliu Maniu no.2-4 Gallery, Cluj Napoca Old Center.

2- Iasi from 4 April to 7 April 2017 Palace of Culture
3- Cluj Napoca from 11 April to 19 April 2017 Museum of Art
4- Timisoara from 24 April to 30 April 2017 Bastion
This first presentation is hosted by the event SHARE Bucharest 2017 International Architecture and Engineering Forum / The Fundació Mies van der Rohe Director Anna Ramos will be presenting it as Honorary Guest of the Forum.
This exhibition features panels of the 355 nominated works and a special presentation of the 40 selected works.
At the same time, as an extension of the EU Mies Award, panels of the 211 nominated works for theYoung Talent Architecture Award (YTAA) will also be displayed bringing together the most talented recently graduated architects and the best architecture firms of Europe.
Opening March 21 at 20:00h