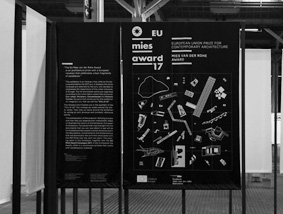 EU MIES AWARD 2017 Exhibition
Exhibition of the European Union Prize for Contemporary Architecture – Mies van der Rohe Award 2017.
The Palau Victòria Eugènia, in the Montjuïc fairgrounds, has been opened for the first time to the public to showcase models, texts and videos of the projects presented in the 2017 edition of the EU Mies Award. It is, at the same time, a way to offer the citizens to know this enclosure. You can see the Winning project DeFlat Kleiburg in Amsterdam, by the architects NL architects and XVW Architectuur, an innovative renovation of one of the largest apartment buildings in the Netherlands, in Kleiburg, an angle block with 500 apartments in the neighborhood of Bijlmermeer of Amsterdam. And also the Emerging Architect Award 2017, granted to the study of Brussels MSA / V + for his work NAVEZ – 5 social housing units at the northern entrance of Brussels, a housing project that fulfills the double ambition of local authorities: represent the validation of urban design with a reference to the entrance of the city and provide modelic social apartments.