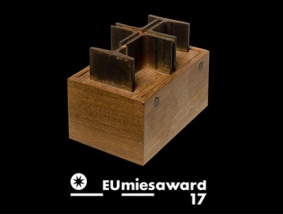 EU Mies Award Day
EU Mies Award Day kicks off with a free day of debates and lectures, the EUMiesAward 207 Exhibition and its catalogue presentation in the Palau de Victòria Eugènia.
EU Mies Award Day continues in the evening with the delivery of the European Union Prize for Contemporary Architecture – Mies van der Rohe Award 2017 in the Mies van der Rohe Pavilion and ends with the celebrations organised by the COAC on the esplanade of the Magic Fountain of Montjuïc.
The architectural containers of the exhibition 'Made in Europe' will serve as 'props' for the festivities. These containers will have been set up in the 10 districts of Barcelona and in Plaça Europa in L'Hospitalet de Llobregat.
PROGRAM
EU MIES AWARD TALKS
Palau Victòria Eugènia
15:30 – 17:00
Welcome by Anna Ramos, Director of Fundació Mies van der Rohe
Keynote lecture BBGK Architekci, Jerzy Kalina, Maksa
Katyn Museum, Warsaw, Poland. Finalist of EU Mies Award 2017
Keynote lecture Lene Tranberg, Lundgaard & Tranberg Arkitekter
Kannikegården, Ribe, Denmark. Finalist of EU Mies Award 2017
Keynote lecture Agnès Sajaloli, Director Memorial du Rivesaltes
Memorial du Rivesaltes, Rivesaltes, France. Finalist of EU Mies Award 2017
Debate "Contemporary Architecture and Heritage"
Panel discussion with architects, jury members, experts, promoters/users:
Michel Magnier, Director for Culture and Creativity, DG Education, Youth, Sport and Culture of the European Commission
Erik Frandsen, Lundgaard & Tranberg
Adam Buława, Director of the Polish Army Museum
Tage Rosenstand, Parish Council Chairman
Agnès Sajaloli, Director Memorial du Rivesaltes
BBGK Architects
Gonçalo Byrne, Gonçalo Byrne Arquitectos and Jury member
Moderators:
Peter Cachola, Director Deutsches Architekturmuseum and Jury member
David Basulto, Founder and Editor in Chief of ArchDaily
17:00
Break
17:15 – 18:45
Keynote lecture Alison Brooks and Nelson Carvalho, Alison Brooks Architects
Ely Court, London, UK. Finalist of EU Mies Award 2017
Keynote lecture Benoit Moritz, MSA/V+ architects
Navez, Schaerbeek, Belgium. Emerging Architect Winner of EU Mies Award 2017
Keynote lecture NL Architects and Xander Vermeulen, XVW Architectuur
DeFlat Kleiburg, Amsterdam The Netherlands. Prize Winner of EU Mies Award 2017
Debate on "Collective Housing and Urban Regeneration"
Panel discussion with architects, jury members, experts, promoters/users:
Stephen Bates, Sergison Bates Architects and President of the Jury
Alison Brooks, Alison Brooks Architects
Kamiel Klaasse, NL Architects
Martijn Blom, Hollands Licht
Jean-Marc Simon, MSA Architectes
Dominique Jakob, Jakob + MacFarlane and Jury member
Moderators:
Juulia Kauste, Director Museum of Finnish Architecture and Jury member
David Basulto, Founder and Editor in Chief of ArchDaily
Wrap-up and conclusions by David Basulto
19:00
Exhibition EU Mies Award 2017 Catalogue presentation and guided visit
20:30
EU Mies Award Ceremony
from the esplanade in front of the Mies van der Rohe Pavilion
22:00-23:30
Architecture Week closing event
esplanade in front of the Mies van der Rohe Pavilion