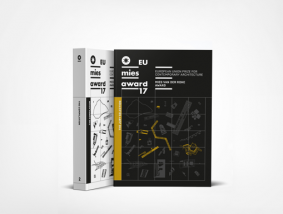 Catalogue presentation
Catalogue presentation
The European Union Prize for Contemporary Architecture – Mies van der Rohe Award 2017 is a catalogue of all the works nominated for the present edition, which provides a panorama of architecture of the past two years in Europe.
This is a sum of all the fragments of architectures, urban fabrics, cities, and territories. A wide architectural sample of sizes, materials and unique strategies that share being European. Classification organises this great group of works, in order to be able to understand them and make the jury selection process easier. There are many ways of classifying, and the one that we present here is not the only one nor is it fixed, but it has the desire to synthesise a many-sided reality and suggest relations. The catalogue is divided into two separate but complementary volumes: "The Compilation" and "The Jury Selection".
The Compilation contains the complete set of works nominated for this edition of 2017, without having a single one stand out: the material before being judged. A first volume where drawings, photographs and information is organised into three parts: Uses, Places and People. Three collections that work as a sort of easily readable index. Plan drawings are oriented north, and are ordered according to programme, comparing works in the same programme families. Photographs are ordered according to city and country where they are built. And the index at the end is ordered according to authors. This gives three different ways of finding a work.
The Jury Selection contains the 40 works selected by the jury, who decided to emphasise the importance of the urban character of Europe. This volume aspires to reflect the discussions held by the jury, that is why the works are organised according to urban fabric. Exo-urban, Periphery, Consolidated and Historic Centre are the parts that construct the imaginary city, the City of 40, the city we represent in the itinerant exhibition.
The reference of this catalogue is the Atlas. European Union Prize for Contemporary Architecture Mies van der Rohe Award 1988-2015, published only half a year ago. The logic and coherence of the categories used here are defined in this work, which analyses and classifies all the works nominated to the Award from 1988-2015. The publication made for the 2015 Award, which brought together the totality of works nominated for that edition, was an exercise of classification for the Atlas. The present catalogue, as a tool to interpret the Award, is one more step in this process that is alive and that works with contemporary material.