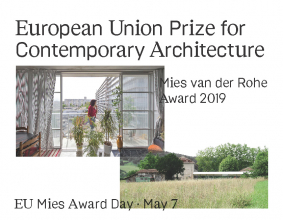 EU Mies Award Day: EU Mies Award Talks + Award Ceremony
Amongst the many activities of the Fundació Mies van der Rohe, the European Union Prize for Contemporary Architecture – Mies van der Rohe Award stands out for its long history and prestige, acting as a springboard for architectural debate since 1988. This event, organised with the support of the Creative Europe programme of the European Commission, celebrates the best of European architecture and takes place every two years, bringing together all those people involved in the transformation of our cities and landscapes.
On May 7th, before the Awards Ceremony, the exhibition will be opened, presenting the 383 nominated works and focusing on the 40 shortlisted buildings with models, videos, drawings and other architectural tools to make these works understandable to all.
At 15:00, two panel discussions called "Transforming people's lives" and Transforming community life" moderated by journalists and participants of the Future Architecture Platform and with the participation of the architects and clients of the finalist and winner works will take place.
The Awards ceremony will take place at 18:30 at the Barcelona Pavilion.