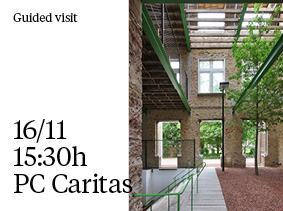 Guided visit PC Caritas
Architectural guided visit of the building PC Caritas in Melle, with Inge Vinck of DVVT Architects. A unique opportunity to discover the building, its architecture and the architect's approach.
The visit will take around 1,5h.
The EU Mies Award was created in 1988 and since then it has become a platform of the best European architecture. This year, prestigious jury members Dorte Mandrup, George Arbid, Angelika Fitz, Stefan Ghenciulescu, Kamiel Klaasse, María Langarita and Frank McDonald, have chosen the PS Caritas building in Melle (DVVT Architects) as one of the 40 best buildings in Europe.
Date and Time: Sat, November 16, 2019, 3:30 PM – 5:00 PM CET
Place: Caritasstraat 76, 9090 Melle, Belgium