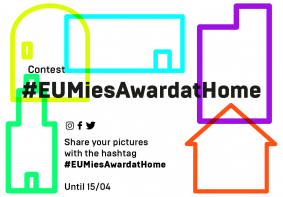 #EUMiesAwardathome – Social media photo contest
These days you are at home we suggest that you review your architecture photo archive, tweak, re-frame and join our contest by sharing your best pictures of the EU Mies Award works you have visited or the ones of Mies van der Rohe Pavilion.
To take part in the contest you only need to share via Facebook, Instagram, Instagram Stories or Twitter
- your best pictures of the Pavilion with the hashtags #miesbcn and #MiesatHome
- Your best pictures of any EU Mies Award work that you have visited using the hashtag #EUMiesAwardatHome
The best images will be shared
For each category you can win:
1st prize: ATLAS
2nd prize: Rollerball
3rd prize: Tote bag Less is More
The awarded pictures will be announced on the 31st of March
It will be very beautiful!
#Stayhome
We are really excited to announce the 3 winners of our #EUMiesAwardatHome photo contest. All of your photos show in a distinct way the pluralism of the EU Prize for Contemporary Architecture - Mies van der Rohe Award's projects. Thank you for your participation!
The winners are:
1⃣ @_ioana_morariu_ (via Instagram)
2⃣ @n_kuklakis (via Instagram)
3⃣ @erenalpbyktpc (via Instagram)
CONGRATULATIONS