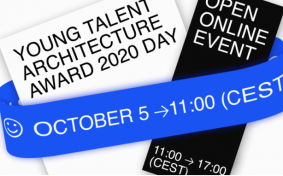 Young Talent Architecture Award Day – Announcement of the winners of YTAA 2020
Next Monday, 5 October, when we celebrate World Architecture Day and World Habitat Day, the European Union Commissioner for Innovation, Research, Culture, Education and Youth, Mariya Gabriel will announce the winners of the Young Talent Architecture Award 2020 (YTAA 2020) in the framework of an online debate day that will also feature the intervention of the Deputy Mayor of Ecology, Urbanism, Infrastructure and Mobility of Barcelona City Council and President of the Fundació Mies van der Rohe.
The award includes the best final year projects of European architecture schools and guest countries, from Latin America in this edition, and celebrates a special edition for Asian schools.
Connect to the YTAA You Tube channel and participate in YTAA Day from 11:00 (CEST). In addition to the video presentation of the winning projects, Ilaria Valente (EAAE), Georg Pendl (ACE-CAE), Lorenz Bräker (UIA) and Anna Ramos (Fundació Mies van der Rohe) will talk about the education and practice of architecture today.
Jury members will share with the authors of the winning projects of the YTAA 2020 their views on the issues that their proposals have addressed these young talents. Topical issues such as the importance of water supply, the transformation of the landscape with natural logic, the regeneration of the city or changes in academic practice and the attitude of students towards education in architecture.
The YTAA moves to generate synergies between territories and generations to drive new responses to current requirements from the world of architecture, urbanism and landscaping and spread them everywhere.
Check out the program here.
Connect and participate too!
YTAA is organised as an extension to the EU Mies Award by Fundació Mies van der Rohe with the support of the Creative Europe programme of the European Union, in collaboration with the European Association for Architectural Education (EAAE) and the Architects' Council of Europe (ACE-CAE); World Architects as founding partner; the European Cultural Centre as a partner in Venice; the sponsorship of Jung, Jansen and Regent; and the support of USM.
Watch the Young talent Architecture Award Day activities here